Trei Kicks off Second Residential Development in Charleston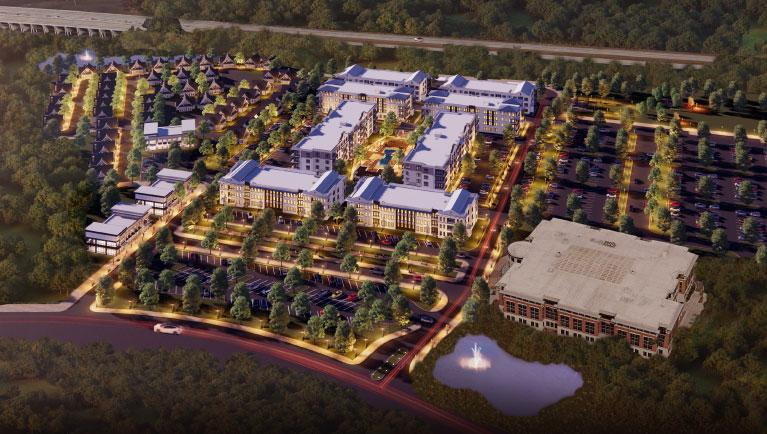 Trei Real Estate ("Trei"), an international developer and owner of residential and retail real estate, together with its local joint venture partner Middle Street Partners, has acquired a development site in Charleston/South Carolina totaling approximately 38,000 square metres. The site on Daniel Island Drive, previously home to a soccer stadium, is part of the planned mixed-use Nowell Creek Village project.
The development, slated to start construction in October 2022, will deliver 320 rental apartments with a combined residential area of nearly 30,000 square metres, split among eight, 3- and 4-story buildings. Amenities at the new multifamily apartment complex will include a swimming pool, fitness centre, club room and dog spa. Atlanta-based architectural firm Dynamik Design is the architect for the project. The project, at an estimated cost of 85 million US dollars, is estimated for completion in late 2024.
Chris Helsabeck, Managing Director of Trei Real Estate USA, said: "We are very excited about this Daniel Island opportunity; Middle Street Partners and we are fortunate to have secured this attractive site. The community's residents will enjoy the mix of uses planned for Nowell Creek Village, convenient access to Daniel Island's many existing amenities, as well as direct access to the adjacent creeks and walking trails."
Pepijn Morshuis, the CEO of Trei, elaborated: "This will be our second development in the Charleston area. The collaboration with our local partner Middle Street Partners has already proven successful in conjunction with our existing joint development in Mount Pleasant, SC, which is nearing completion. Just like us, our US partners focus on high-end multifamily apartment communities in the southeastern United States."
Back
Back